Russia. Gagarin
06 Apr., 2016, press release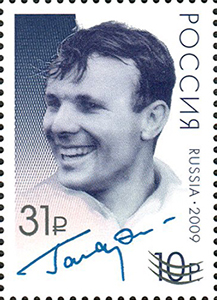 On April 12, 2016 Russian post will issue a stamp with an overprint dedicated to the 55th anniversary of Yuri Gagarin's flight into space. The overprint "31 r." will be placed on the postage stamp of 2009, "75 years of the birth of Y. Gagarin"; the margins of the sheetlet will have a text: "April 12, 2016 - 55 years of the first human space flight"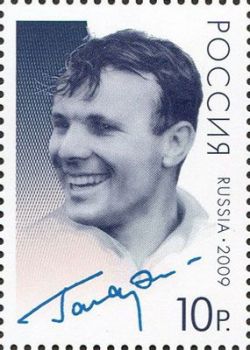 2016 marks a significant date for the Russian cosmonautics - 55 years of the first human space flight.
On April 12, 1961, Yuri Gagarin became the first man in the history of the world, who travelled into outer space. Carrier rocket "Vostok" with the ship "Vostok-1" with Gagarin on board was launched from the Baikonur Cosmodrome. After 108 minutes of flight Gagarin successfully landed in the Saratov region, near the town of Engels. Starting from April 12, 1962, the day of Gagarin's flight into space was declared a holiday - Cosmonautics Day. The first space flight attracted a great interest around the world, and Yuri Gagarin became a worldwide celebrity.
The following objects were named after the first cosmonaut of the Earth: the city of Gagarin (former Gzhatsk), a crater on the reverse side of the Moon, the asteroid #1772, Gold Medal of the World Air Sports Federation (since 1968), Square in Moscow. There are streets, avenues, squares, boulevards, parks, clubs and schools named after Gagarin in many cities.
"75 years of the birth of Y. Gagarin", 2009

Type of issue: sheets of 10 stamps and 2 coupons
Circulation: 125,000 ex. (12,500 sheets)

First Day Cover will be in Moscow on 12th of April 2016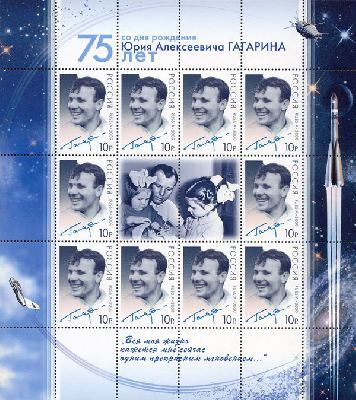 Sheet, on which the overprint will be placed
Coming soon!
Please register or sign in to send us a pre-order for this products