Days of stamps in Helsinki
29 Oct., 2011, press release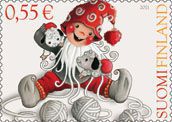 At saturday and sunday 29-30 of october,in Helsinki, in winter garden of the biggest in Finland exhibition center "Messukeskus" will be traditional filatelic exhibition "Days of Stamps".
In exhibition has showed strong and interest collections by members of Finnish Filatelist Union and by club of Appollo postcard lovers.
At work in exhibitiom have membering post administrations of Finland, Aland Islands, Estonia, and the best Filatelic Firms of Finland and Sweden.
Our firm will traditionally show a big range of stamps and other filatelic materials.
Welcome!
For all questions about exhibition you can call to us in Finland by number +358468110755 or by e-mail nv@stspb.ru
Coming soon!
Please register or sign in to send us a pre-order for this products