Russia Sochi 2014. Tourism, countinue
21 Oct., 2011, press release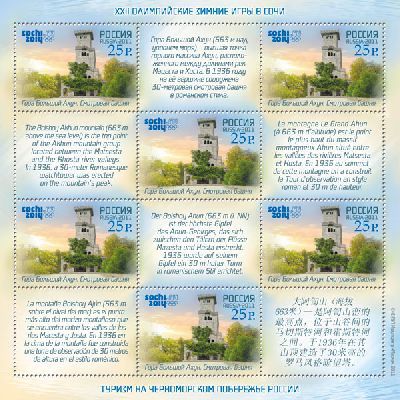 21 october of 2011 year

came for treatment issue of 4 stamp serie

"XXII Olympic games in Sochi 2014 year. Tourism at Black Sea coast of Russia.
In contrast to the velease of these same stamps, held on September 27, stamps of postal payment will go on sale not in blocks, but sheetlets of small size with coupons of 6 different languages.
In every sheetlets will be 6 the same stamps and 6 different coupons, placed in relation to each other by shess system.
Circuklation for 840 000 ex. for every stamp (140 000 lists).
First Day Cancellation has been on main post offices of Sochi and Moscow.
Coming soon!
Preliminary orders for

stamp

s

,

sheetlets, maxicards and

FDC's

accept

e-mail

: info@stspb.ru
Coming soon!
Please register or sign in to send us a pre-order for this products