Latvia. F.A.Tsander, 125 years
24 Aug., 2012, press release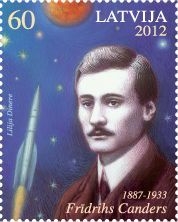 At
23th
August
2012
post

-treatment
of Latvia
issued a new stamp

125th Anniversary
birth of
Friedrich Tsander.

Tsander was a pioneer of rocketry and spaceflight in the Russian Empire and the Soviet Union. He designed the first liquid-fuelled rocket to be launched in the Soviet Union, GIRD-X, and made many important theoretical contributions to the road to space.

Stamps come to sale in sheetlets with 10 stamps
.
First Day Cancellation was at Riga post office.
Coming soon!
Preminary orders by e-mail
info@stspb.ru
Coming soon!
Please register or sign in to send us a pre-order for this products