Estonia. "Postal Horn" 2013
05 Jan., 2013, press release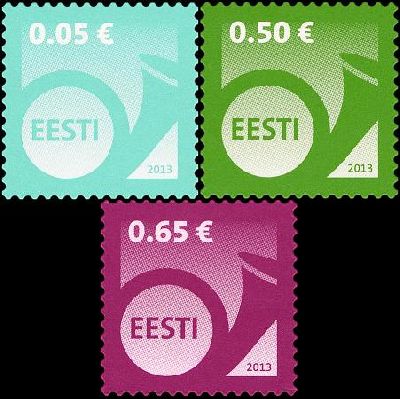 At
10 January 2013
to Estonian post-treatment comes 3 stamps of definitive issue "Postal Horn".
A series of new definitive stamps in the uniform Post Horn design began on 10 January 2008. Until the end of 2010 the face value on the stamps appeared in two currencies. The first post horn definitives with the face value in euros alone were issued on 3 January 2011 and the stamps brought out now are an addition to the same post horn series.
Stamp will come to sale in sheetlets (25 stamps each) with decoration fields.
Circulation:
0,05 and 0,65 euro - 700000 st. (28000 sheetlets)
0,50 euro - 1000000 st. (40000 sheetlets)
First Day Cancellation will be at Tallinn post office.
Coming soon!
Preminary orders by e-mail
info@stspb.ru
Coming soon!
Please register or sign in to send us a pre-order for this products