Rossica-2013
21 Sep., 2013, press release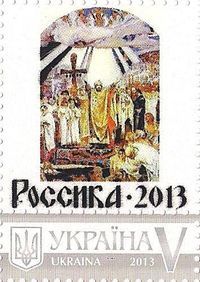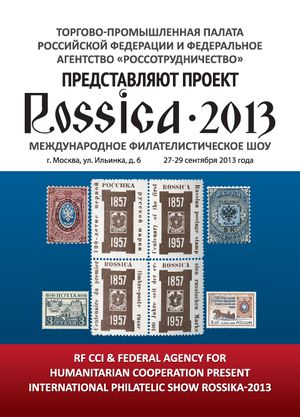 The International Philatelic Show
The International Philatelic Show "Rossica-2013" is the Academy's first philatelic show organised as a noncompetitive exhibition.
The show will be attended by members of the National Academy of Philately of Russia, the Union of Philatelists of Russia, the European Academy of Philately and national academies of philately in Europe, postal organisations, collectors, community organisations, and associations.
The Club de Monte-Carlo and the Royal Philatelic Society of London will be honorary participants of the show.
The company "Philatelic Service of St.Petersburg" has been actively involved in the preparation and holding of the exhibition "Rossika 2013."
The exhibition "Rossika 2013" we will present a wide range of domestic brands from the first issue in 1857 to the present, the postal administrations of the Baltic countries and all brands of the African countries that were released for the exhibition "Rossika 2013."
"Philatelic Service of St. Petersburg" on "Rossika" will present own post card, for a special cancellation stamp, on which was produced five special postmarks.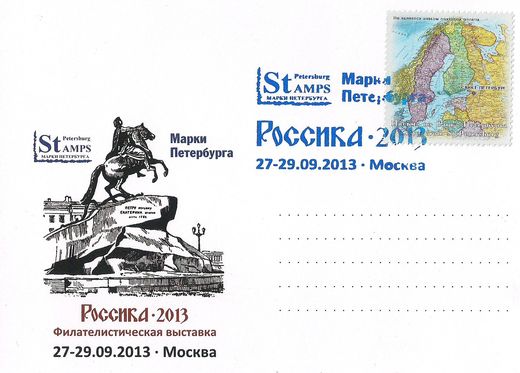 We invite you to visit our booth in the main exhibition hall!
Presentation of company "Philatelic Service of St.Petersburg" is scheduled for 11:30 am on Saturday, September 28th! Welcome for beautiful, successful shopping and rare philatelic exhibition souvenir!
Venue:6 Ilyinka Ulitsa, Moscow, Russian Federation,
Congress Centre, Chamber of Commerce and Industry of the Russian Federation (RF CCI)
Coming soon!
Please register or sign in to send us a pre-order for this products