Russia. St Sergius of Radonezh
09 Sep., 2014, press release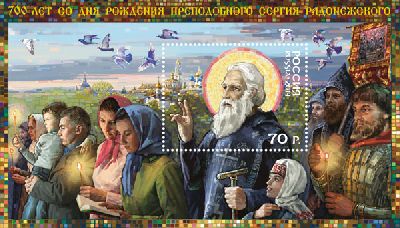 At 16th September 2014 to
Russian
post treatment come a new stamp
"700 years
since the birth
St. Sergius of Radonezh"

Venerable Sergius of Radonezh (Russian: Се́ргий Ра́донежский, Sergii Radonezhsky; 14 May 1314 – 25 September 1392), also transliterated as Sergey Radonezhsky or Serge of Radonezh, was a spiritual leader and monastic reformer of medieval Russia. Together with Venerable Seraphim of Sarov, he is one of the Russian Orthodox Church's most highly venerated saints.

First Day cancellation

will be held

16.09.2014

at the

post office

in Moskow,
St.
Petersburg,
Rostov
(
Yaroslavl region
)
and
Sergiev Posad (
Moscow region).
Coming soon!
Please register or sign in to send us a pre-order for this products