Ukraine. Trams
27 Jul., 2015, press release

On July 24, 2015 post of Ukraine released two post stamps dedicated to the history of the capital's tram transport - "Kiev tram KTV-55-2. 1958" and "Kiev funicular. 1959".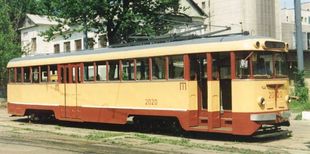 KTV-55-2 is a double-sided version of the tram KTV-55. It was based on the Riga's popular MTV model. Due to its relief Kiev had many routes with deadlocks, so double-sided trams were a necessity.
In the early sixties they served all the deadlock routes that were in the city. After the upgrade of street tram network in 1968, the production of KTV-55-2 was stopped. 81 double-sided trams were produced for Kiev during fourteen years. KTV-55-2 was the last passenger motor tram manufactured in the capital of Ukraine.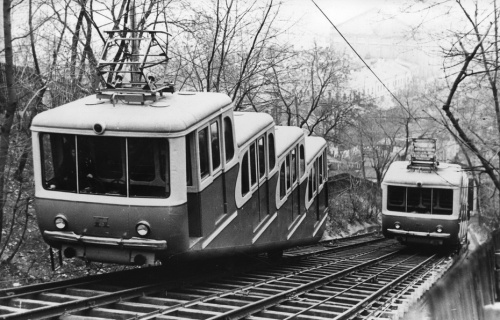 Kiev funicular is a funicular system from Podil to the Upper Town in Kiev (Ukraine). It was opened on 7 May 1905. It became second funicular in the former Russian Empire (first one was in Odessa). Nowadays Kiev funicular is one of the famous sights of Kiev. One direction ride lasts for 2.5-3 minutes. It transports 10 to 15 thousand passengers daily.
Type of issue: sheetlets of 12 (4х3) stamps
Stamp size: 40,6 х 26 мм
Perforation comb: 14 ¼ х 13 ¾
Circulation unit: 130 000 examples of each stamp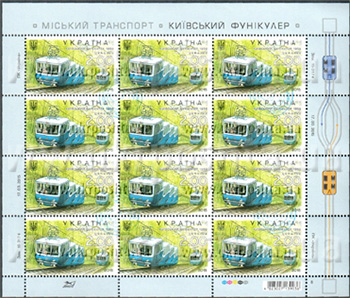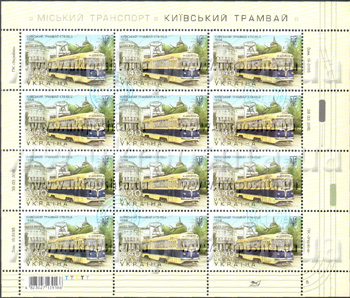 First Day Cover was on 24th of July 2015 in Kiev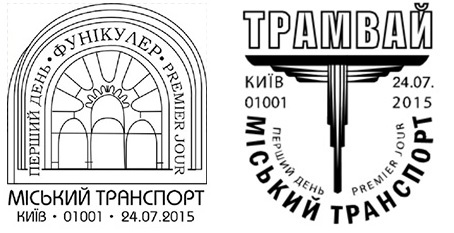 Two maxicards were published as well.

Coming soon!
Please register or sign in to send us a pre-order for this products