Ukraine. Duke Vladimir
05 Aug., 2015, press release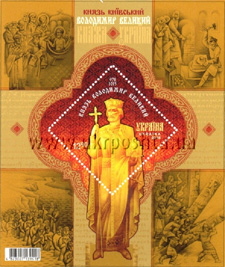 On July 28, 2015 post of Ukraine has issued a souvenir sheet with one stamp dedicated to the 1000 years from the death of Baptist of Russia - Saint Duke of Kiev Vladimir.
Saint Duke of Kiev Vladimir the Great (in bapt. Vasily, 960-1015) is the creator of the medieval European state and the Baptist of Kievan Rus'. In 988 he chose Christianity as the state religion. He established political, economic and cultural relations with Byzantium, Bulgaria, Poland and Western European countries. In the middle of the XIII century he was canonized by the Orthodox Church as a Saint, equal to the apostles. Baptism of Kievan Rus' was celebrated on July 28, 2015 in Ukraine as a state, religious and national holiday.
Type of issue: Souvenir sheet

Souvenir sheet size: 90x106 мм
Stamp Size: 36,54x36,54 mm
Frame perforation - 11 ½
Circulation unit: 40 000 ex. (3000 ex. imperforate)
First Day Cover was in Kiev on 28th of July 2015
Coming soon!
Please register or sign in to send us a pre-order for this products