Russia. Nikolaevsk-on-Amur
12 Aug., 2015, press release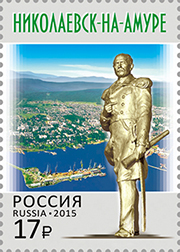 On August 14, 2015 Post of Russia will issue a stamp dedicated to the city of Nikolaevsk-on-Amur. The stamp illustrates a monument to the founder of the city Admiral G. Nevelsky on the background of the city.
Nikolaevsk-on-Amur (Nikolaevsk until 1926) is the city-port located on the Amur River. It was founded in 1850 by Russian explorer Admiral Gennady Nevelsky as a military-administrative settlement (Nikolaevsky post). Good location and easy access to sea caused the rapid development of industry in the city. The city had the status of the main port of the Far East until 1870. Nowadays Nikolaevsk-on-Amur is a major regional center. The main shares in the economy are non-ferrous metals mining, fishing and woodworking industries.

Type of issue: sheets of 15 stamps.
Stamp Size: 30x42mm
Sheet size: 170×146mm
Circulation: 495,000 ex. (33,000 sheets)
First Day Cover will be in Moscow and Nikolaevsk-on-Amur on 14th of August 2015
Coming soon!
Please register or sign in to send us a pre-order for this products