Russia. Monasteries
17 Aug., 2015, press release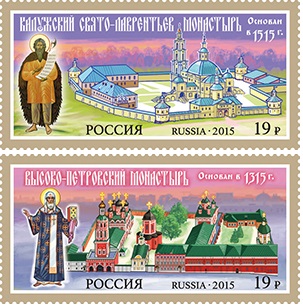 On August 23, 2015 Russian Post will issue two stamps dedicated to the 700th anniversary of Vysokopetrovsky Stavropegic Monastery and the 500th anniversary of Kaluga's Svyato-Lavrentiev Monastery in the "Monasteries of Russian Orthodox Church" series.
Vysokopetrovsky Stavropegic Monastery is located in Moscow, on Petrovka Street. It was founded by Saint Peter, first Metropolitan of Moscow and all Russia. Years of construction: 1315-1317. In Soviet period the monastery was closed by the decision of the Moscow City Council (in 1926). On 1991 the monastery was restored and became to function again.
Kaluga's Svyato-Lavrentiev Monastery was founded in 1515 when Kaluga was an independent region. It is the oldest monastery in the city of Kaluga. The monastery is dedicated to the Holy and Righteous Lavrenty of Kaluga, who was sheltered in Duke Simeon's home.
Type of issue: sheets of 9 (2x5) stamps and 1 coupon
Stamp Size: 32,5×65mm
Sheet size: 152x185mm
Circulation: 306,000 ex. (34,000 sheets)

First Day Cover will be in Moscow and Kaluga on 23rd of August 2015