Belarus. Brest Academic Drama Theatre
18 Sep., 2015, press release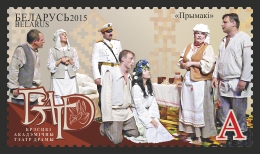 On September 11, 2015 Post of Belarus issued the stamp "Brest Academic Drama Theatre" in the "Theatres of Belarus" series. The stamp illustrates a scene from the play "Prymaki".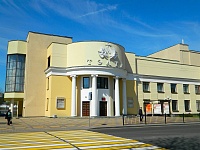 Brest Academic Drama Theatre was founded in 1944. At first it was known as "Brest Regional Drama Theater named after Lenin Komsomol of Belarus" and consisted of the Moscow City Drama College graduates. In 2009 the theatre recieved the academic status. Since then, the name of the theater is the state institution «The Honoured Collective of the Republic of Belarus "Brest Academic Drama Theatre named after the Lenin Komsomol of Belarus». Since 1996 the theatre organizes the International theater festival "Belaya Vezha" which annually hosts theatre groups from more than 20 countries.
Type of issue: sheets of 6 stamps (2×3)
Perforation: 13x13 ½
Stamp Size: 52x29,6mm
Sheet Size: 130x120mm
Circulation: 60,000 ex. (10,000 sheets)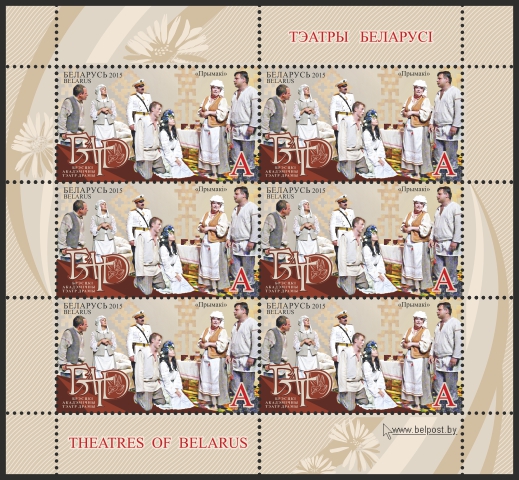 The Value "А" is a tariff of a letter up to 20 gram within Belarus.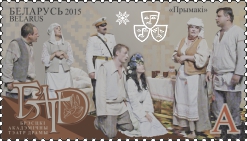 Elements of protection
First Day Cover was at the post office No.10 of Brest on 11th of September 2015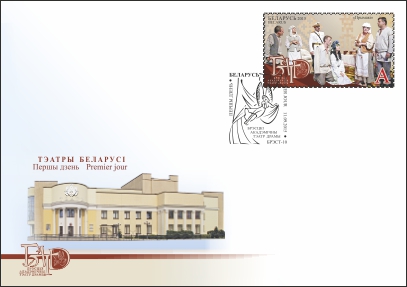 Coming soon!
Please register or sign in to send us a pre-order for this products