Russia, Mexico. Architecture
14 Oct., 2015, press release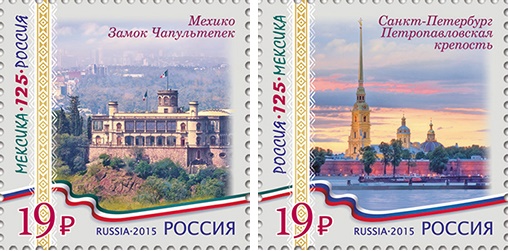 On October 19th, 2015 Post of Russia together with Post of Mexico will issue two stamps in a joint issue, which are dedicated to the 125th anniversary of establishment of diplomatic relations between the countries. The stamps illustrate Peter and Paul Fortress in St. Petersburg and Chapultepec Palace in Mexico City.
Russian-Mexican diplomatic relations were established in 1890. In 1997 the Declaration on the Principles of Relations and Cooperation between Russia and Mexico was signed.

Peter and Paul Fortress is main historical and military-engineering monument of Saint Petersburg. It was founded in May 1703 on the small island at the mouth of the Neva River. The fortress is an ensemble of the architectural facilities built by the French engineer J. Lambert.

Chapultepec Castle in Mexico City was founded in 1785 by the initiative of Viceroy Bernardo de Gálvez. In 1864 Emperor Maximilian of Habsburg started using the palace as a country residence. Astronomical observatory was located there, until 1939 it was used as a presidential residence. Currently, Chapultepec Castle is administered by the National History Museum.
Type of issue: sheet of 8 stamps and a coupon (3×3)
Stamp Size: 37×37mm
Sheet size: 130×133mm
Circulation: 200,000 ex. (50,000 sheets)

First Day Cover will be in Moscow on 19th of October 2015