Russia. History of customs
15 Oct., 2015, press release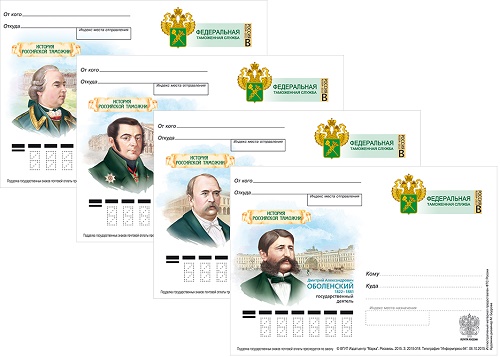 On October 21, 2015 Post of Russia issues four postcards with original stamp dedicated to the statesmen of Customs Service – P. Shuvalov, D. Bibikov, N. Katchalov and D. Obolensky, in the "History of Russian customs" series. The cards depict portraits of the heads of the department. The original stamp illustrates coat of arms of Russian customs.
History of Russian customs began from the end of X century with the first mentions of trade duties, which were applied to some commodities on their way from producer to consumer in the ancient state. In the middle of the XIII century Mongols introduced their toll – "tamga". Over time, this name was transferred to customs (in Russian: "tamozhnja") and referred to all charges and duties.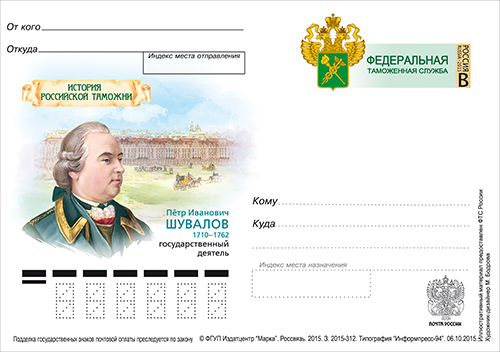 Earl P. Shuvalov (1711 - 1762) was the head of Russian government. Instead of internal customs Shuvalov proposed to increase the duty on the import and export prices. Russian export consisted mainly of raw materials, whereas luxuries were mainly imported, therefore duty on import laid down essentially on the wealthy segments of people.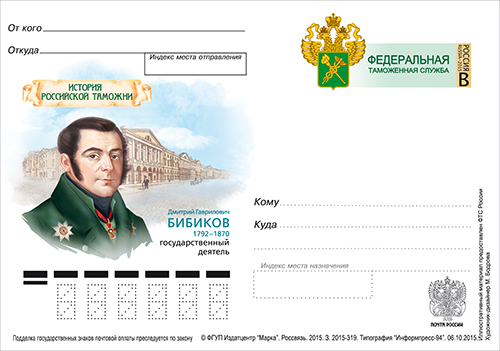 D. Bibikov (1792-1870) was the general Governor of Kiev, Secretary of State of the Russian Empire. From 1824 to 1835 he was the head of the Department of Foreign Trade. He tried to eliminate abuses of the customs agency, develop the customs guarding of the state borders, and introduce customs symbols and uniforms. On September 2, 1827 he introduced the flag of customs - light green textile with white St. Andrew's Cross.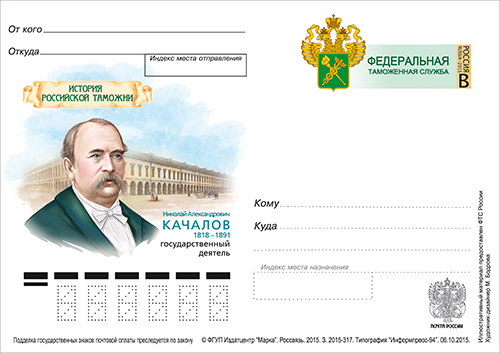 N. Kachalov (1818-1891) was the Head of the Department of customs duties, which belonged to the Ministry of Finance of the Russian Empire. He introduced customs duties as payments in gold, rearranged customs regulations on the newly established borders between Russia and Turkey, as well as between Russia and Romania. Customs of the Caucasian region became part of the Empire's customs management.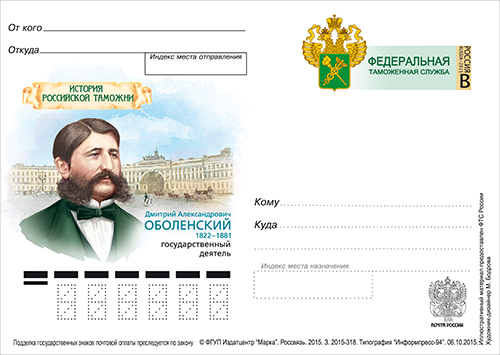 D. Obolensky (1822 - 1881) was a Prince; Secretary of State, a member of the State Council, Senator. He graduated from the School of Law. In 1863, while being the Head of the Department of customs duties, he reorganized the department and improved its effectiveness.
Denomination: "B"
Circulation: 13,000 ex.
Coming soon!
Please register or sign in to send us a pre-order for this products