Russia. Alert equipment
27 Oct., 2015, press release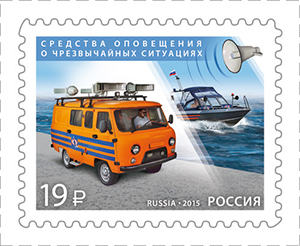 On October 28, 2015 Post of Russia will issue a stamp dedicated to the equipment of the emergency alert and notifications. The stamp illustrates mobile systems of notification: motor vehicle, boat and loudspeaker.
International Day for Disaster Reduction is celebrated annually on October 13. In many parts of the world such natural hazards as earthquakes, floods, landslides, droughts, fires, etc. cause a significant destruction of economic and social infrastructure, deaths, impact negatively on the ecosystem. Currently, there are quite many opportunities to reduce the risks by preventing disasters and rapidly informing and alerting people. Many of them are based on the modern technology of forecasting and involve the development of early warning systems and alerts.
Type of issue: sheets of 8 stamps (2×4)
Stamp Size: 36,5×29mm
Sheet size: 100×150mm
Circulation: 384,000 ex. (32,000 sheets)

First Day Cover will be in Moscow on 28th of October 2015
Coming soon!
Please register or sign in to send us a pre-order for this products