Estonia. Penny Black
13 Nov., 2015, press release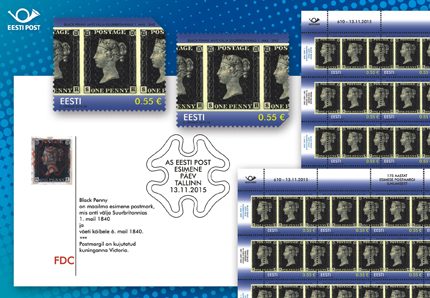 On November 13, 2015 Post of Estonia issues a stamp dedicated to the 175th anniversary of the first postage stamp in the world "Penny Black".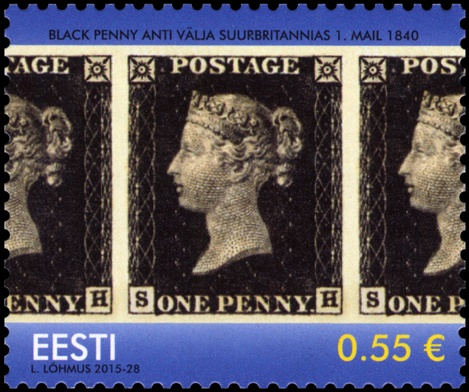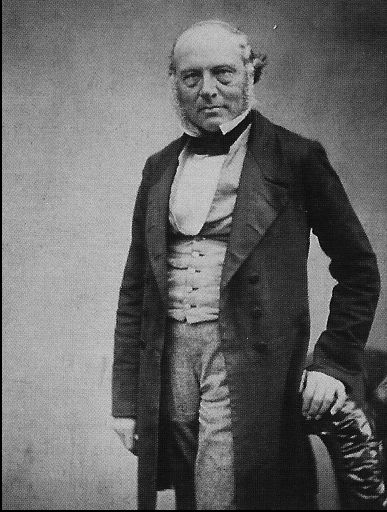 "Penny Black" is the first postage stamp. It was made in black color and had a denomination of 1 penny. The first postage stamps appeared in England in 1840. Their appearance was due to the introduction of a new cheaper uniform postage rate. It is considered that Rowland Hill, who became later a British general postmaster, is the inventor of the stamps. On January 6, 1837 R. Hill proposed the idea of ​​a uniform postage rate, paid by sender, and released a pamphlet "Post Office Reform its Importance and Practicability". Thanks to his efforts, stamps known as "Penny Black" were issued on May 6, 1840. Postal reform and the introduction of stamps enhanced the growth of English post services (from 75 million letters in 1839 to 168 million letters in 1840), helped to process mail easier and simplified the calculation of payment for it. A total of 286,700 sheets of 68,808,000 "Penny Black" stamps were printed then, and part of it (at least a few percent) reached our days.
Sir Rowland Hill
Type of issue: sheets of 16 stamps (4x4)
Perforation: 13¼: 13¼
Stamp Size: 36.0х30.0mm
Circulation: 40,000 ex.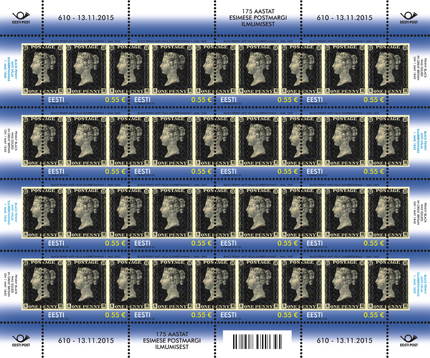 First Day Cover was in Tallinn on 13th of November 2015