Russia. Stadiums of Football World Cup 2018
18 Nov., 2015, press release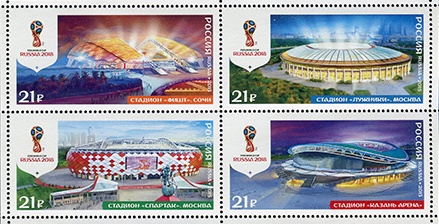 On November 17, 2015 Post of Russia released four stamps dedicated to football arenas, which will host matches of the World Cup in 2018. The stamps illustrate the stadiums in Moscow, Sochi and Kazan: "Luzhniki", "Spartak", "Fischt" and "Kazan Arena". The other eight stadiums will be represented on stamps in the future issues.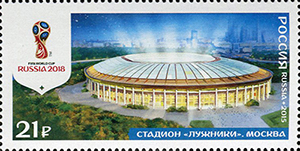 "Luzhniki" stadium is one of the largest sports facilities in Russia and around the world. It is the main place of Moscow when it comes to conducting a large-scale event, besides it is a place for leisure and fun activities. It was constructed in 1956. "Luzhniki" is an architectural ensemble, which unites more than 80 buildings and facilities. The capacity of the "Luzhniki" stadium is around 80,000 people.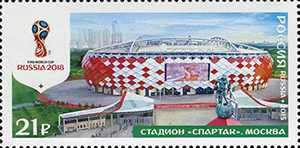 "Spartak" stadium (Otkrytiye Arena) is one of the largest sports centers in Moscow. It was opened in 2014. The stadium's capacity is over 40,000 people. It has ultra-modern equipment and meets all the safety requirements.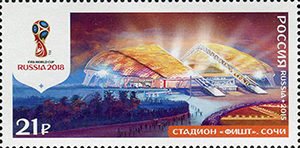 Stadium "Fischt" is a football stadium, sports and entertainment center with a capacity of 40000-45000 people. The architecture of the stadium reminds seashell and snowy peaks. The stadium hosts matches of the Russian national team, as well as various mass events.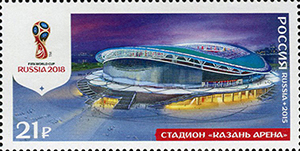 "Kazan Arena" stadium is one of the largest multipurpose stadiums in Russia. It was opened in 2013 and has 45,000 seats. The shape of "Kazan arena" reminds of water lily. Sport events, concerts, various large-scale events are held on the stadium.
Type of issue: sheets of 2 strips of 4 stamps
Perforation: 13 ½
Stamp Size: 65×32,5mm
Sheet Size: 154×154mm
Circulation: 400,000 strips (200,000 sheets)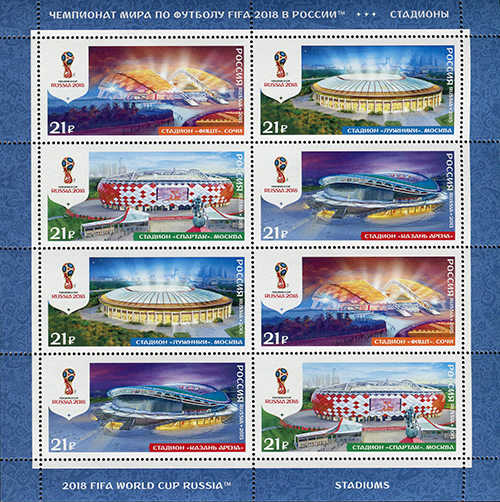 First Day Cover was in Moscow, St. Petersburg, Krasnodar, Sochi, Ekaterinburg, N. Novgorod, Samara, Rostov-on-Don, Kazan, Saransk, Volgograd, Kaliningrad on 17th of November 2015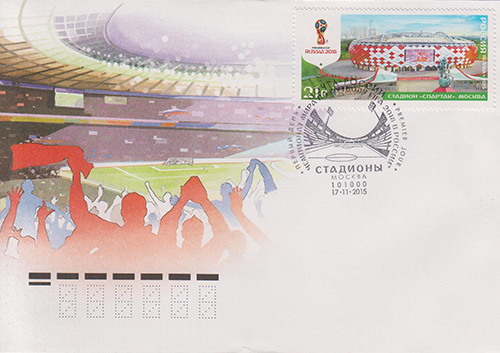 Additionally, Post of Russia issued a souvenir set with the post stamps and FDC inside