Russia. National cuisine. Joint issue of the RCC countries
07 Jan., 2016, press release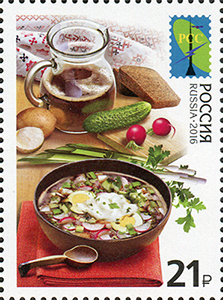 On January 13, 2015 Post of Russia will issue a stamp dedicated to the national cuisine in a joint issue of the RCC countries. The stamp illustrates a still life of Russian cuisine dishes - pickles, okroshka, kvass and vegetables, which are traditional for Russian cuisine.
The world-famous Russian cuisine is well-known for the variety and abundance. Over the history Russian cuisine enriched many recipes for delicious dishes.
Russian cuisine is characterized by the presence of various pickled, salted and soaked vegetables, fruits and mushrooms, a variety of delicacies: sturgeon, salmon, red and black caviar, ham and so on. Russian cuisine has large variety of soups, with the most famous as: okroshka, shchi, borscht, solyanka, kalya, ukha, botvinya.
Type of issue: sheets of 12 stamps (4×3)
Stamp Size: 37×50mm
Sheet Size: 168×170mm
Circulation: 480,000 ex. (40,000 sheets)
First Day Cover will be on 13th of January 2016