Russia. Artist Leon Bakst
08 Jan., 2016, press release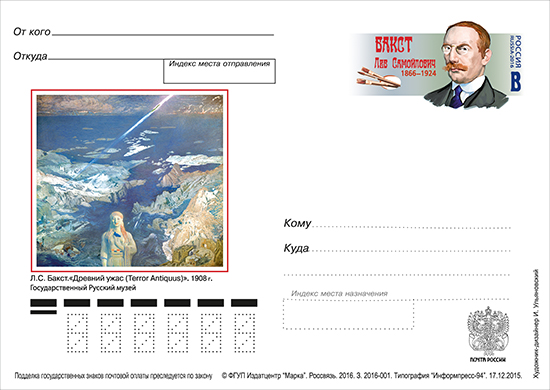 On January 26, 2016 Post of Russia will issue a card with imprinted stamp, dedicated to the 150th anniversary of the artist Leon Bakst. The post card illustrates the portrait of the artist and his painting "Terror Antiquus" (1908) from the State Russian Museum.
Leon Bakst (1866-1924) - Russian artist, stage designer, book illustrator, master of painting and theater graphics, one of the most prominent figures of the "World of Art" union and theatrical and artistic projects of Sergei Diaghilev. He created sets for Greek tragedies; from 1908 he became the author of different sets for Diaghilev's "Ballets Russes": "Cleopatra" (in 1909), "Scheherazade" (1910), "Carnival" (1910), "Narcissus" (1911), "Daphnis and Chloe" (1912).
Denomination: letter "B"
Circulation: 12,000 ex.
Coming soon!
Please register or sign in to send us a pre-order for this products