Russia. Medals
10 Feb., 2016, press release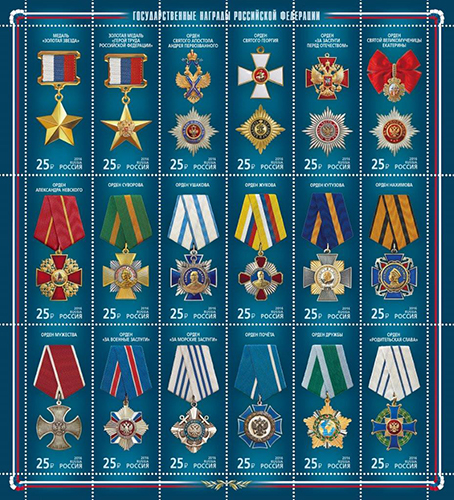 On February 19, 2016 Post of Russia will issue a souvenir sheet of 18 stamps in the "State awards of the Russian Federation" series. The stamps illustrate the images of the following Russian state awards:
1. Order of Saint Andrew the Apostle the First-Called
2. Medal "Golden Star"
3. Order of Saint George
4. Order "For Merit to the Fatherland"
5. Order of St. Catherine
6. Order of Alexander Nevsky
7. Order of Suvorov
8. Gold medal "Hero of Labor of the Russian Federation"
9. Order of Ushakov
10. Order of Zhukov
11. Order of Kutuzov
12. Order of Nakhimov
13. Order of Courage
14. Order of Friendship
15. Order "For Military Merit"
16. Order "For Naval Merit"
17. Order of Honour
18. Order "Parental Glory"
Type of issue: souvenir sheet of 8 (63) stamps
Stamp Size: 26×58mm
Sheet Size: 176×194mm
Circulation: 75000 ex. of each stamp (75000 sheets)

First Day Cover will be in Moscow and St. Petersburg on 19th of February 2016