Russia. 25 years of the RCC
14 Mar., 2016, press release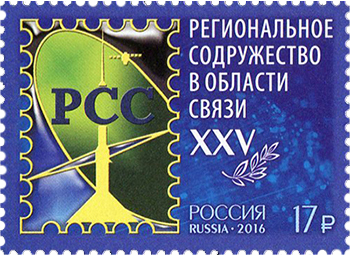 On March 3, 2016 Post of Russia issued a stamp dedicated to the 25th anniversary of the establishment of the Regional Commonwealth in the field of Communications (RCC). The stamp illustrates the emblem of RCC.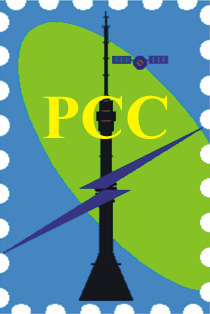 Regional Commonwealth in the field of Communications (RCC) was established on December 17, 1991 in Moscow.
The main tasks of the RCC are: expansion of mutually beneficial relations between the RCC administrations to complement the development of networking and communication products; coordination in the field of science and technology, radio spectrum management, tariff policy on communication services and mutual settlements, training; cooperation with international organizations in the field of communication and information, mutual exchange of information, etc. Members of the RCC are: Armenia, Azerbaijan, Belarus, Georgia, Kazakhstan, Kyrgyzstan, Moldova, Russia, Tajikistan, Turkmenistan and Uzbekistan. The observers are: Bulgaria, Latvia, Lithuania, Slovenia, the International Organization of Space Communications "Intersputnik" (Russia) and the European Telecommunications Satellite Organization "EUTELSAT" (France). In 2011, members of the RCC started to organize issues of postage stamps on the RCC topics, in order to develop cultural, social and economic relations between the states and to strengthen the friendship between the nations. Such issues have the RCC emblem illustrated on the postage stamps and philatelic products.
Type of issue: sheets of 15 (3×5) stamps
Stamp Size: 42×30mm
Sheet Size: 146×170mm
Circulation: 360000 ex. (24000 sheets)

First Day Cover was in Moscow on 3rd of March 2016