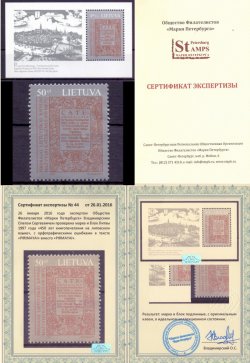 Lithuania Litauen 1997 450th anniversary of the first edition of the Catechism in Lithuanian in Königsberg RARE set of stamp and block with certificate
Date of issue: 15 Feb., 1997
450th anniversary of the first edition of the Catechism in Lithuanian in Königsberg.
Stamp and block with misspelled text "PIRIMAJAI" instead of "PIRMAJAI". The circulation of stamps and blocks was reissued and entered circulation without error.
The erroneous circulation has been destroyed, several dozen stamps and several blocks are known.
Michel No. I (stamp) and block I (stamp No. ii)
Certificate of Philatelic Society of St. Petersburg
St # LT97/5 А error
Mi # stamp I and block I