Russia. EUROPA 2015. Toys
30 Dec., 2014, press release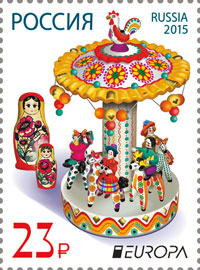 Dymkovo toy - one of the Russian folk clay arts and crafts. Figurines are molding by parts, and then drying and calcining to cover whitewash and paint colors of yellow, blue, green, scarlet flowers, which gives to toys special brightness and elegance. Subjects for painting are young people, buffoons, ladies, gentlemen, nannies with children water carriers, pets, turkeys, roosters and deers.
Matryoshka - Russian wooden toy in the form of a painted doll, inside of which are similar to her smaller pieces. Number of nested dolls usually from three to twelve. They have an egg shape with a flat bottom and consist from two parts: upper and lower. Traditionally,is Matryoshka drawning woman in sundress, apron and headscarf.
Type of issue: 12 (4x3) stamps on sheetlet.
Circulation Unit: 420 000 stamps (35 000 sheetlets)
First Day Cover will be in Moscow and St. Petersburg at 16th January 2015
.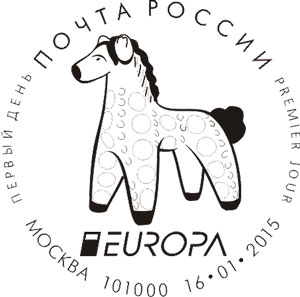 Also was done a cover art with stamp and FDC for day of issue.