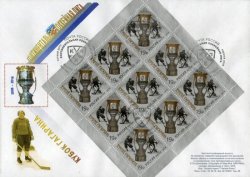 Russia. Hockey. KHL, Gagarin Cup. FDC with sheetlet "Moscow 101000"
Date of issue: 20 Feb., 2016
St # RU16/28 S FDC M
On February 20, 2016 Post of Russia issued a stamp dedicated to the Kontinental Hockey League (KHL). The stamp illustrates the main trophy of the competition - the Gagarin Cup, and players' figures.